Section 11 Effective Partnership (Roles and Responsibilities)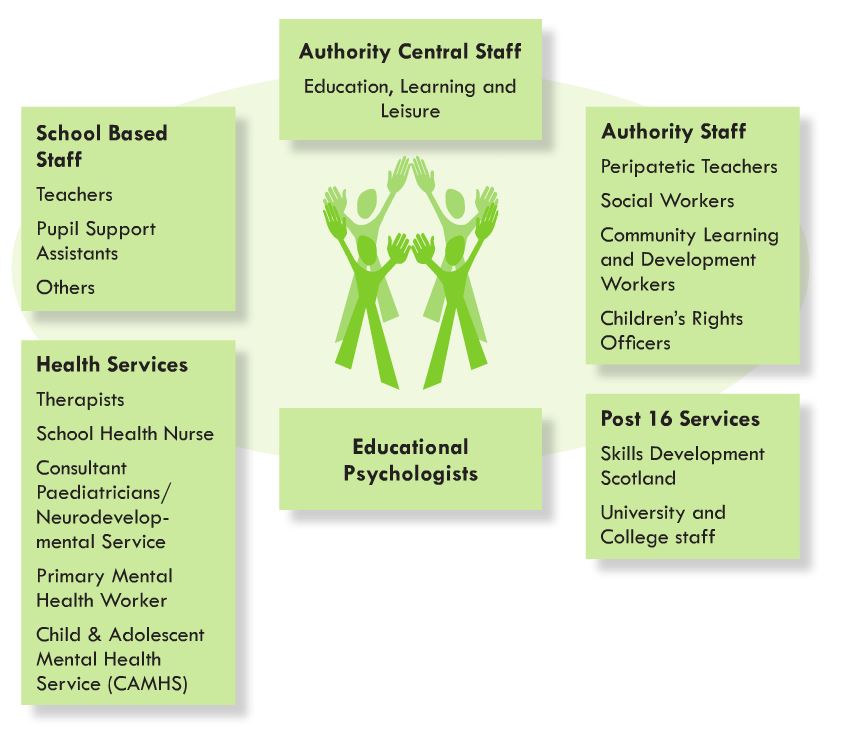 The diagram above demonstrates the very wide range of support and additional support which can be available across Education and Learning – Education, including Community Learning and Development and Social Work – Health and Post 16 Partners to meet the additional support needs of children and young people and their family or carers. The additional support needs of children and young people can only be met through effective support delivered by an integrated team of staff which is clear about respective roles and responsibilities.
Levels of Identification and Support
Broad roles are outlined in 
Supporting Children's Learning 
code of practice (Revised Edition), at 3.31: the
Framework of Identification and Support
, shown in the link and in the following diagram.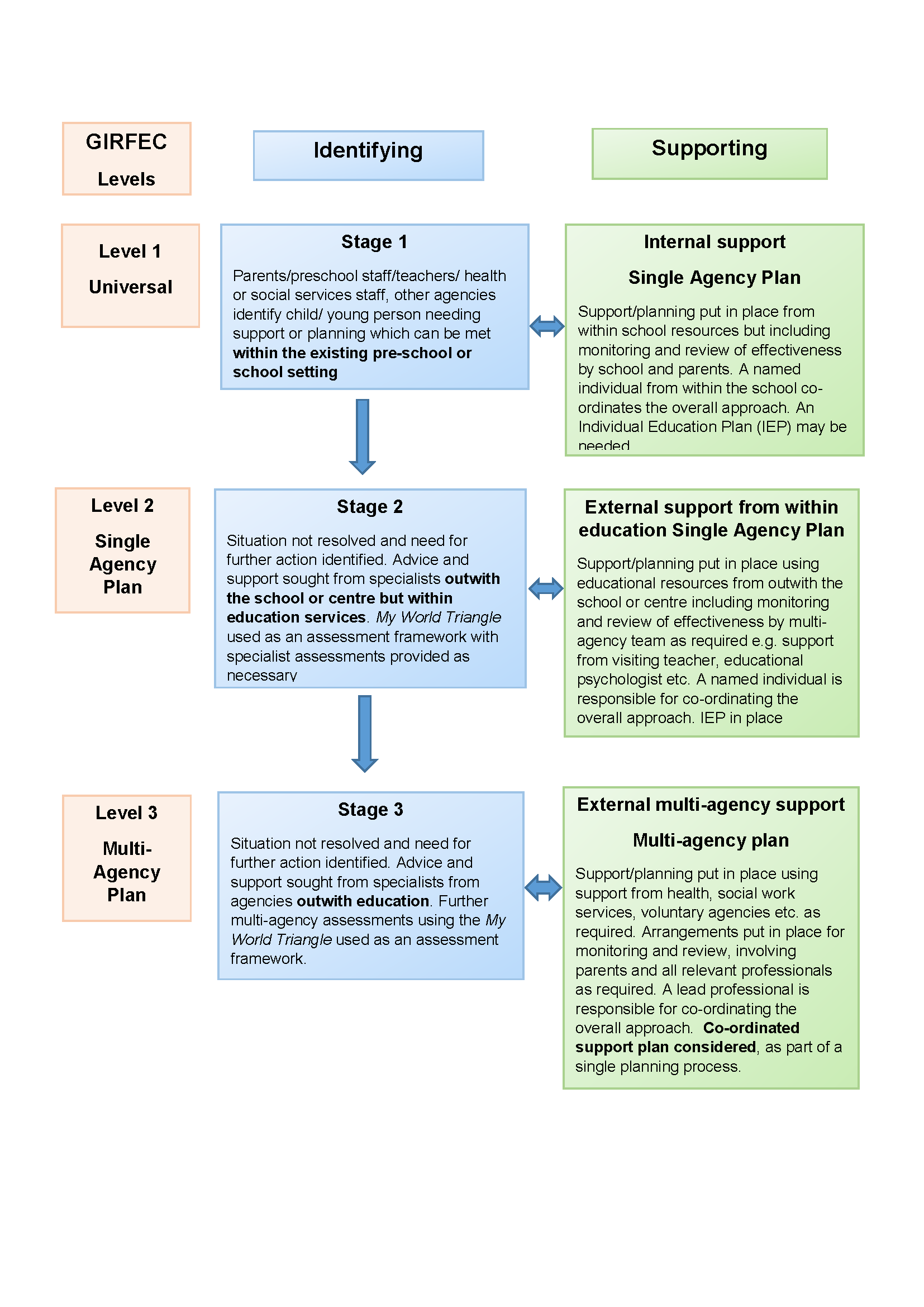 The Code recommends three (revised) levels of identification and support that are in line with GIRFEC, and which Aberdeenshire has developed to suit its own situation. The Levels of identification and support are described as follows:
Universal
Targeted/ Single Agency plan
Specialist/ Multi-Agency plan
This link takes you to Education Scotland's description of
Staged Intervention.
All managers and practitioners should be clear about the Authority's staged approach to identification and support,
Aberdeenshire's Staged Intervention
and understand the role of relevant practitioners who are involved at the different levels in identifying and supporting children's learning. At all Levels, it is the Class teacher who holds the main responsibility for nurturing and educating all pupils in their class. Additional support at
level 1
means that teachers can receive advice with planning and additional support from within their own school's resources. That is, they can receive additional support from colleagues, Support staff and Promoted staff. This is described as
universal provision
, ie provision which is available for all children. At
Level 2
, Class teachers can be helped to meet needs with additional support from beyond the school albeit still located within Education and Children's Services. This can include additional support from Peripatetic teachers, Educational Psychologists and advice and consultation from Social workers and Community Learning Development workers. Planning to meet the needs of a child receiving support at Level 2 will require a
Single Agency plan
. The support provided is described as targeted provision. At
Level 3
, Class teachers can receive a range of support from within the school as well as support from beyond the school. This Multi-Agency input can include direct intervention by social work when appropriate,and/or advice and/or direct support from health and/or voluntary agencies. A child whose support is considered to be at Level 3 requires a
Multi-Agency action plan
. The support provided is described as
specialist provision
. Further information on planning is provided in
Section 14.
Co-ordinating (Educational) Support in Schools
All schools benefit from a Headteacher who demonstrates acceptance and embraces diversity and is highly committed to ensuring the needs of all children are met. All schools irrespective of size need to be clear who forms their in-school Support team and be clear how different functions will be delivered. They should also know who forms their wider multi agency team be clear about specific roles and responsibilities within this broader team. The following tables provide an overview of roles and responsibilities within schools and across Social Work, Health Services and Post 16 Provision in Aberdeenshire. However, roles and responsibilities will change depending on the context of the school. It is therefore important that each school clarifies their own situation within their own Authority policy, so that there is no confusion for practitioners, children and young people, parents and carers. All partners can use the descriptions which follow to ensure managers and practitioners have an effective collective framework of support for children and young people. Who is specifically responsible and how they decide to deliver the tasks and functions will require careful consideration and agreement.
The Named Person and Lead Professionals
(school staff or partners) are responsible for co-ordinating help and support to a child or young person and family, including planning provision. The following define specific roles and responsibilities.
School Senior Management Team
Class/Subject Teachers
Early Years Practitioner (formerly Nursery Nurse)
Pupil Support Assistants (PSA)
Additional Support for Learning Teacher
Principal Teacher of Guidance/Pastoral Care
Principal Teacher Support for Learning
Designated Person for Looked After Children
Peripatetic Services
The Additional Support for Learning Act (2004) states: 'when the child or young person is, or is likely to be, unable without the provision of additional support to benefit from the school education provided or to be provided for the child or young person there is the need for additional support.' This does not imply that a child or young person lacks abilities or skills. For example, bi-lingual children or young people, whose first language is not English, may already have a fully developed home language and a wide range of achievements, skills and attributes. Any lack of English should be addressed within support programmes which take full account of the individual's abilities and learning needs. Similarly children and young people who are hearing or visually impaired, deaf or blind, will have barriers to learning which can be reduced through the expertise of the relevant Support teachers for hearing or visual impairment. Aberdeenshire has in place a range of peripatetic services in order to ensure the needs of children and young people with specific needs are met. The way in which each school co-operates with these Peripatetic services and the quality of the specialist expertise, determines how effectively the child or young person is supported. The titles below provide a guide to the roles of these Peripatetic services and will support Schools and other services in effective partnership working with them.
English as an Additional Language (EAL)
Sensory Support Service
ASPECTS
The Role of Educational Psychologists
Gypsy/Traveller Liaison Officer
Throughcare and Aftercare Teams
Youth Services Team
Social Worker
Wrap Around Care
Community Learning and Development Services
Aberdeenshire Young Carers Support Service
Health Care Staff
Speech & Language Therapist
Occupational Therapist
Physiotherapist
Partnership with the School Nurse, Consultant Paediatrician, Multi-Agency Child Development Team and Child and Adolescent Mental Health Services
Post 16 Services Partnership with Skills Development Scotland, Colleges and Universities
Skills Development Scotland
Youth Opportunities Database Aberdeenshire (YODA)
Colleges
Further Information
Prompts for Reflection
back to top